November 23rd, 2021 by
rrteam
Turkey and football might be the most ubiquitous Thanksgiving traditions… But if you're not watching football all weekend, consider watching one of these great Thanksgiving movies with your loved ones!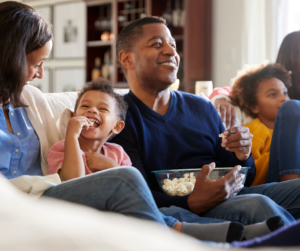 1. A Charlie Brown Thanksgiving (1973, Not Rated, 30 minutes)
There is nothing more family-friendly than Charlie Brown and the Peanuts gang. Those of all ages will love taking a trip back down memory lane over the holiday break. Join Snoopy and take part in your own popcorn feast with this short and lovable classic.
2. It's A Wonderful Life (1946, PG, 2 hours 10 minutes)
As soon as the dishes are done, it's truly the kick-off of the Christmas season. The season wouldn't be complete without George Bailey. This movie provides a great chance to remember what we all have to be thankful for and that our lives are a real gift.
3. Home Alone (1990, PG, 1 hour 43 minutes)
Another family classic, Home Alone, brings a touch of humor with a lovely lesson in being thankful for family hidden in the jokes. After spending the holiday weekend with family, you'll be especially grateful for how much they really mean to you.
4. Planes, Trains, and Automobiles (1987, R, 1 hour 33 minutes)
Keep the laughs rolling with this great comedy featuring Steve Martin and John Candy. Need I say more? This is a John Hughes classic, but with an "R rating," this one may be for the older audience, with some jokes of a more adult nature. 
5. Free Birds (2013, PG, 1 hour 31 minutes)
If the pumpkin pie and cookies have the kids bouncing off the walls, settle down the youngsters with this animated feature. It's a story about turkeys trying to keep themselves off the traditional menu – perfect for kids! Adults aren't left out with the enjoyable voices of Owen Wilson, Amy Pohler, Woody Harrelson, and George Takei – just to name a few.
6. The Wizard of Oz (1939, G, 1 hour 52 minutes)
You really can't go wrong with this family classic. From the ruby red slippers, to the flying monkeys, everyone, of all ages, will take a trip back to childhood once Judy Garland starts dreaming of "Somewhere Over the Rainbow."
7. The Sound of Music (1965, G, 2 hours 54 minutes)
With a nearly three-hour running time, this one may require those with a longer attention span. (Or perhaps this is the chance to sleep off that Thanksgiving feast…) But there is nothing like a war-time musical to make you thankful for all you have today. The classic songs and famous faces, such as Julie Andrews and Christopher Plumber, will keep you humming all weekend long.
8. The Blind Side (2009, PG-13, 2 hours 9 minutes)
If the sports enthusiast in the family is sad after the final touchdown is scored, you can bring football back into the mix with this movie – based on a true story!
9. E.T. the Extra-Terrestrial (1982, PG, 1 hour 55 minutes)
This family classic brings the 1980s back to life with a memorable story all ages can enjoy. The flick will remind you that you can be thankful for anything or anyone – even those from another planet!
10. Labyrinth (1986, PG, 1 hour 41 minutes)
The kids get Jim Henson puppets. The adults get David Bowie. Everyone enjoys a story about being thankful for what you have, even cranky little brothers. 
11. Alice's Restaurant (1969, R, 1 hour 51 minutes)
Another pick for the older audience, this 1969 classic brings the 1967 Arlo Guthrie folk song (oh, and he plays himself) onto the silver screen. Some references to sexual situations make it less appropriate for the youngsters, but many adults will remember this comical classic.
12. Annie (1982, PG, 2 hours 7 minutes)
A red-headed orphan, adorable musical numbers, and a story that keeps those of all ages will enjoy. Children might even remember to be thankful for their parents after watching Daddy Warbucks bond with Annie!
No matter your pick, the best part of Thanksgiving is family. Enjoy some flicks, curl up on the couch, grab the popcorn, and remember to be grateful for all that you have. Happy Thanksgiving!