January 25th, 2022 by
rrteam
With temperatures often below freezing, 60+ inches of snow each year, and typically at least two blizzards per winter, Minnesota winters are truly special. Even if you aren't "outdoorsy," there are plenty of ways to truly appreciate all this frosty season has to offer in Southern Minnesota! 
Outdoor Winter Activities in Southern Minnesota
Despite sometimes frigid weather, the Great Outdoors is one of the best parts about living in Minnesota. There are countless ways to get out there and enjoy it – even if you have to bundle up!
1. Skiing and Snowboarding
With plenty of options of where to go, skiing and snowboarding are some of the most popular outdoor recreational activities in our neck of the woods. Mount Kato and Afton Alps are our go-to destinations as a family. 
Fun fact: Afton is owned by Vail Resorts – so a pass at Afton also works at Vail, Breck, Keystone, etc!
2. Ice Climbing
Do you know what happens when you take an old quarry, add hoses full of water, and allow Minnesota winters to do their magic? You get an ice park! That's precisely what the City of Winona teamed up with Winona State University's Outdoor Recreation Center to do. The result is an amazing and free attraction overlooking views of the Mississippi.
The Winona Ice Park, accessed only by the Sugarloaf Trailhead, offers an anchored, giant climbing wall made completely out of ice.
This midwest hotspot (or should I say cold spot?) is a major destination for climbers near and far, and those of us already here can enjoy it anytime!
3. Curling
You've likely seen the sport of curling featured in the Winter Olympics. But have you ever tried it for yourself? 
Thankfully, with locations like the Chaska Curling Center, even those new to the sport can enjoy events like a "Crash Course in Olympic Curling," and pair the event with a rinkside dinner. With classes, leagues, and junior lessons, people of all ages can enjoy testing their luck with the broom.
Indoor Winter Activities in Southern Minnesota
It's not all about getting outside to enjoy a Southern Minnesota winter. Some of the area's best offerings can occur inside, keeping yourself toasty warm while still having a great time. 
4. Take In a Game of Hockey
You can bundle up and watch others do the hard work when you take in one of the area's most popular sports… hockey. Since I belong to a family of hockey players, lovers, and coaches, of course, we don't miss out on this favorite pastime of a Minnesota winter.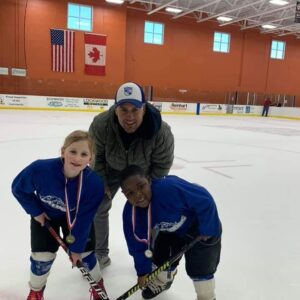 The Minnesota Wild (NHL) sells single-game tickets online here, starting around $69 per person, but the team isn't the only game in town. The Minnesota Mullets, a Junior-A team based in Minneapolis which skates out of the Augsburg University Ice Arena, and The Minnesota Moose, which skates out of the Saint Paul Civic Center, are both teams that are a part of the United States Premier Hockey League (USPHL), offering games all winter long both live and on television.
Plenty of youth, high school, and community hockey leagues also abound. Do you have a local favorite?
5. Camp In a Yurt
Three state parks in central and southern Minnesota offer a unique style of camping in an insulated, round building that can best be described as a cross between a tent and a cabin. Called a yurt, these fun dwellings feature wood floors, wood stoves, and even basic furniture – with many rentals holding three to seven guests.
Locations include:
Enjoy the wonderful offerings of Minnesota's State Parks, all while staying in the heart of the action with these interesting overnight rentals. With a plethora of trails for snowshoeing or cross-country skiing during the day, camping offers both indoor and outdoor fun during a Minnesota winter.
6. Tour a Winery
Nothing keeps you warm from the inside out quite like a glass of wine. Check out some of Southern Minnesota's vineyards this winter, such as Salem Glen Winery, which offers wines and ciders made on-site at its Tasting Room, open Thursday through Sunday, October to May. 
From Tuesdays through Sundays, January to April, the Cannon River Winery offers tastings in its winery, but also recently added Bitchin' Kitchen, a restaurant with a mission to "celebrate spirited women." 
Now that we've talked about six ideas to stay busy in Minnesota this winter, I want to hear from you! What are your favorite things to do in the winter?