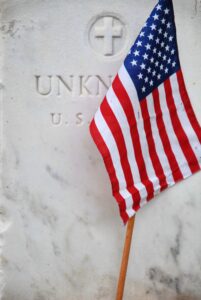 We are approaching the annual kick-off to summer! Celebrated with barbecues, parades, and a day off from work and school, Memorial Day in 2022 falls on Monday, May 30. This holiday is fast-approaching and makes for the perfect time to reflect on why it is a holiday in the first place.
Honoring Our Armed Forces
While it is important to honor and remember those who have served in our nation's military every day, there are three unique holidays set aside to particularly focus on those dedicated women and men. It is helpful to understand the differences and to teach our children why we celebrate these dates.
Armed Forces Day
Armed Forces Day on May 21, 2022 is reserved for those currently serving in the military. The day falls in Armed Services Week, geared with the same goal.
The day has a focus to celebrate every and all branches of the service: The U.S. Army, U.S. Navy, U.S. Marine Corps, U.S. Air Force, and U.S. Coast Guard. While each division has its own days as well, this date (the third Saturday in May) is especially significant to not only honor those serving but the team-oriented, unified front the Armed Services has as a team-based entity, the United States Department of Defense.
Veterans' Day
Observed annually on November. 11, Veterans' Day is to honor all of those who have served in our military. Traditionally, it is to thank and appreciate those who served in any division of the Armed Forces at any time, in any capacity. 
Memorial Day
The third date set aside to honor our military women and men is Memorial Day. This day, as the name may make clear, is to memorialize those who have died in service. While all that have served, are serving, or have died in the service to the country should be remembered each day, this special holiday is reserved for those that lost his or her life for our country while enlisted.
Thanking a veteran for his or her service any day is a wonderful gesture – though on Memorial Day, it is more appropriate to thank the families of those who have died in service. You can also lay flowers on the graves of those who passed in service, hang an American flag, or attend services or parades in their honor. These are all wonderful ways to remember those who gave the ultimate sacrifice for our freedom.
Memorial Day in Mankato
It can be hard to teach our children, especially, about these differences and even harder to find ways to celebrate and remember those dedicated volunteers who gave their all. In Mankato, one wonderful way to do so is through our local Trail for Heroes.
Consider spending the day here, in our own backyard, and explore the Greater Mankato area's 14 memorial sites on the Trail for Heroes. This 12-mile route can be walked, biked, or driven in portions.
Described as a "scenic route [that] winds through the two historic city centers and beautiful natural landscapes as it leads visitors to monuments that commemorate the sacrifices of veterans from the 1800s to the present day," the route runs along portions of public roads and trails.
The trail is accessible on foot or by bike, and parking is available at most of the destinations, should you prefer to drive. Along the route, you will also find local parks, dining, and shopping that can make a full day out of your educational, recreational, and entertaining Memorial Day.
Thank You, Veterans and Families!
From those that died in service, whom we will honor this Memorial Day, to those currently serving (Armed Forces Day) or those who have in the past (Veterans' Day), I extend my deep-hearted thank you for your service.  Without you, we could not enjoy the freedoms and luxuries provided to us as citizens.