October 7th, 2022 by
rrteam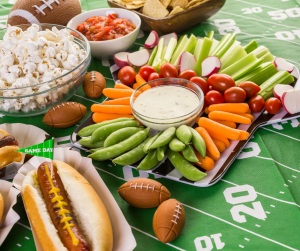 This time of year, there's one sport Minnesotans can't get enough of… Football! From the Vikings to the Gophers to local high school teams, we have plenty to keep us cheering.
Besides the excitement of the game, one of the very best parts of getting together for these games is the food. Wouldn't you agree?!
Consider Your Guests
When you're planning a tasty menu for your next football Sunday, consider who is coming along. Try to accommodate unique needs and preferences where possible. Some fans might be dieting, so have some healthier options. Some fans may be gluten-free, have allergies, or restricted, medical diets. 
Be considerate of all guests coming to the table (or tailgate). Provide beverage options that include alcoholic and non-alcoholic options. Offer carbonated and flat drinks for all unique tastes.
Consider Your Location
Where your next football gathering is planned for will greatly impact the menu. Tailgates and games in front of the big screen may require more hand-held or standing-friendly options. Think about sandwiches or snacks on sticks as an option. Treats that can be easily consumed in one bite are best if on the move.
Have Fun with Themes
Consider making the food fun with themes. You can incorporate the team colors into your plates, napkins, or silverware. You can add the colors to your food choices to really get the team spirit high!
If you want to get really creative, consider your opponent, too. If your college is facing the Syracuse Orangemen, a side of mandarin oranges or peelable "Cuties" might be a fun choice. Are the Vikings facing Buffalo? Why not bring in the wings, and take a "bite" out of the competition? Are the Packers on the schedule? A cheese platter will likely go down well!
Fun Options for Football Foods
Once you've weighed your options, considered the guests, selected a location, and crafted a theme, you are ready to plan the true star of the game: the food! Here are our top picks for tasty snacks to satisfy your fans.
1. Fruit or Vegetable Tray
Not only are fruits and vegetables very colorful (think team color coordination), but they provide a healthy option, too. Most are also easy to keep silverware-free and hand-held, meaning they're great options for on-the-go, tailgates, or standing-room-only events.
2. Pizza, Wings, and Subs, Oh My!
Everyone knows the good old stand-bys. Game day snacks often mean those traditional goodies. These options also help out the party planner by being easy to order, often have delivered, and cut out the extra legwork when preparing. If you have to clean the house, prep for your week ahead, and invite guests, consider leaving the menu to the pros.
3. Everyone Loves a Sandwich
A sandwich buffet of sorts can please nearly any diet. Offering plenty of meat and non-meat options (even add in that PB&J), not to mention a chance to make it gluten-free by skipping the bread. Add loads of toppings like lettuce, tomato, and onion, not to mention a variety of condiments, and let the crew make their own.
4. Share a Soup
As fall brings in the crisp air, another fun option is a yummy soup or chili. These are an ideal option for those that may want to prep ahead of time, and sit back to enjoy the game come kick-off. Easily stored and served as and when fans want in a crockpot, these goodies can stay warm all game long. 
If you are pressed for time, opt for the Share-a-Soup party, and ask each family to bring a pot along! You'll add plenty of options and reduce the work on yourself, too!
5. The Taco Bar
Another buffet option is to create a taco bar. Offering plenty of options for all diets and tastes, this south-of-the-border choice is another great way to prepare ahead of time. Once you've done the chopping and meat prep, you're able to watch each down without being stuck in the kitchen. Additionally, you can accommodate plenty of diets with beans instead of meats (for the vegetarians) and salad plates (for those avoiding gluten). Allowing folks to make their own lets them pick and choose to fit their hearts' desires.
6. Football Finger Foods
For me, tailgating screams finger foods. Our traditions for the game day include plenty of appetizer-like goodies. From sweet and sour meatballs (combine equal ounces of grape jelly and chili sauce along with a frozen bag of meatballs and bam! delicious), to chili cheese dip, these foods might not be waistline-friendly but are sure to please the football crowd.
Another favorite in our house is to add Little Smokies to a bottle of your favorite barbecue sauce, and instantly, another tasty app. That phrase "there's an app for that" doesn't just apply to smartphones. 
Your turn! Which snacks are your go-to favorites for football parties?